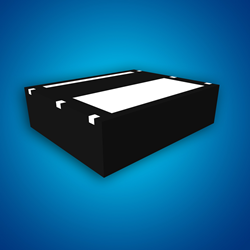 They offer a more robust product in a small form factor that does not use a wear mechanism found in gas discharge tubes and MOVs.

TEMPE, Ariz. (PRWEB)
September 13, 2022
ProTek Devices has introduced a hybrid semiconductor technology that is the company's first for circuit protection in common industrial and household applications such as power supplies, home appliances, industrial automation controls, smart meters and other critical applications. The new patent-pending technology makes the new devices the ideal replacement for high-end surface mount metal oxide varistors (MOV).
ProTek Devices' latest hybrid surge protection (TVS) devices have several unique advantages. They offer a more robust product in a small form factor that does not use a wear mechanism found in gas discharge tubes (GDTs) and MOVs. Therefore, the service life and reliability is significantly increased. The new PHYTVSxxxV3 and PHYTVSxxxV4 series devices offer a reliable overvoltage solution when a lower clamping voltage is required. Each series consists of three component offerings.
Both series are compatible with the IEC standard 61000-4-5 (Surge). However, the PHYTVSxxxV3 is LL Class 2, for 500V 1.2/50 microseconds – Req = 2 ohms or 250A 8/20 microseconds, and the PHYTVSxxxV4 is Class 3, 1 kV 1.2/50 microseconds – Req = 2 ohms or 500 A 8/ 20 microseconds. Both also feature bi-directional operation for 50/60/400 Hz AC power lines. In addition, both series are available for SMT reflow soldering, have an operating temperature of -55 to +125 degrees Celsius and are RoHS and REACH compliant.
The PHYTVSxxxV3 and V4 series also meets and exceeds IEC 61000-4-2 (ESD): Level 4 air plus or minus 15 kV, contact plus or minus 8 kV and IEC 61000-4-4 (EFT): 40 A.
Mechanical details and availability information

Both series come in a DFN-2 KW package. The PHYTVSxxxV3 has an approximate weight of only 2.5 grams and the PHYTVSxxxV3 weighs only 0.75 grams. The PHYTVSxxxV3 has a form factor compatible with SMT 3225. Other mechanical properties include a lead-free matte tin plating for the PHYTVSxxxV3 and a lead-free silver plating for the PHYTVSxxxV4. Both have a solder reflow temperature of (260-270 degrees Celsius, 10 seconds). Finally, both series have a UL 94V-0 flammability rating. A data sheet for the PHYTVSxxxV3 is available here and for the PHYTVSxxxV4 is available here.
Both series of hybrid TVS components are available on 12mm tape and reel in minimum quantities of 1,000 per EIA Standard 481. For pricing information and purchasing details, contact any authorized worldwide distributor, agent, or contact ProTek Devices directly. These sales resources are available throughout North America, Europe, Asia, South America and more. Complete contact information for all regions can be found on the company's website.
ProTek Devices circuit protection components include transient voltage suppressors, TVS diodes, steering diode TVS arrays, and other modules and components. They are used in numerous applications worldwide to protect against various electrical surges and high voltage spikes that can damage electronic investments. This includes aerospace subsystems, automotive subsystems, computer interfaces, consumer electronics, industrial and instrumentation equipment, medical devices, military subsystems, and networking and communications equipment.
About ProTek devices

ProTek Devices™ is a privately held semiconductor company that has been in business for more than 30 years. It offers a comprehensive line of circuit protection devices. Its transient voltage suppressors (TVS array), steering diode TVS arrays, component modules and more are widely used around the world. Household brands and many other companies use them to provide greater security and protect investments they make in electronic designs ranging from industrial to consumer. Circuit protection is provided against lightning; electrostatic discharge (ESD); electrical fast transients (EFT), nuclear electromagnetic pulses (NEMP); inductive switching; electromagnetic interference / radio frequency interference (EMI / RFI) and more. ProTek Devices is based in Tempe, Arizona. Distributors and agents are available in the US, Europe, Asia, Latin America and more. Visit https://protekdevices.com/ for more information.
Note: Whether noted or not, references to certain words or names may be trademarks or registered trademarks of their respective owners.

###
Share the article on social media or via email: